A review by Software Suggest
Offering learning and upskilling opportunities to employees has become more critical than ever. It helps make your employees more efficient at their jobs and reduces attrition. Plus, training enables you to fill skill gaps in your workforce.
Since you are reading this, we're sure you already know this. But, to revisit your memory, here are some numbers indicating the importance of employee training.
While these numbers indicate that training is essential, it also highlights that most methods need to be more exciting.

So, how do you make it more compelling and engaging? The answer is a robust learning experience platform (LXP) like ByteKast.
ByteKast makes employee training engaging and rewarding. It lets you publish learning content instantly with its BLXP adaptive layout engine. You can add gamification to make it tempting for employees to complete the training. In addition, it allows you to create audience groups to manage who can access the content.
Once you provide access, employees can complete the courses using mobile, tablet, desktop, or phablet. They can also download and complete the training offline. ByteKast will capture and upload analytics when they come back online.
But most learning management systems do this, so what makes ByteKast different and better? Let's dig deeper to understand that.
What is ByteKast?
ByteKast is an end-to-end learning platform with UX-mined wireframes (inspired by Apple) that help you bring simplicity to the learning experience. In addition, it is packed with gamification features (scores, rewards, and leaderboards) to keep employees engaged.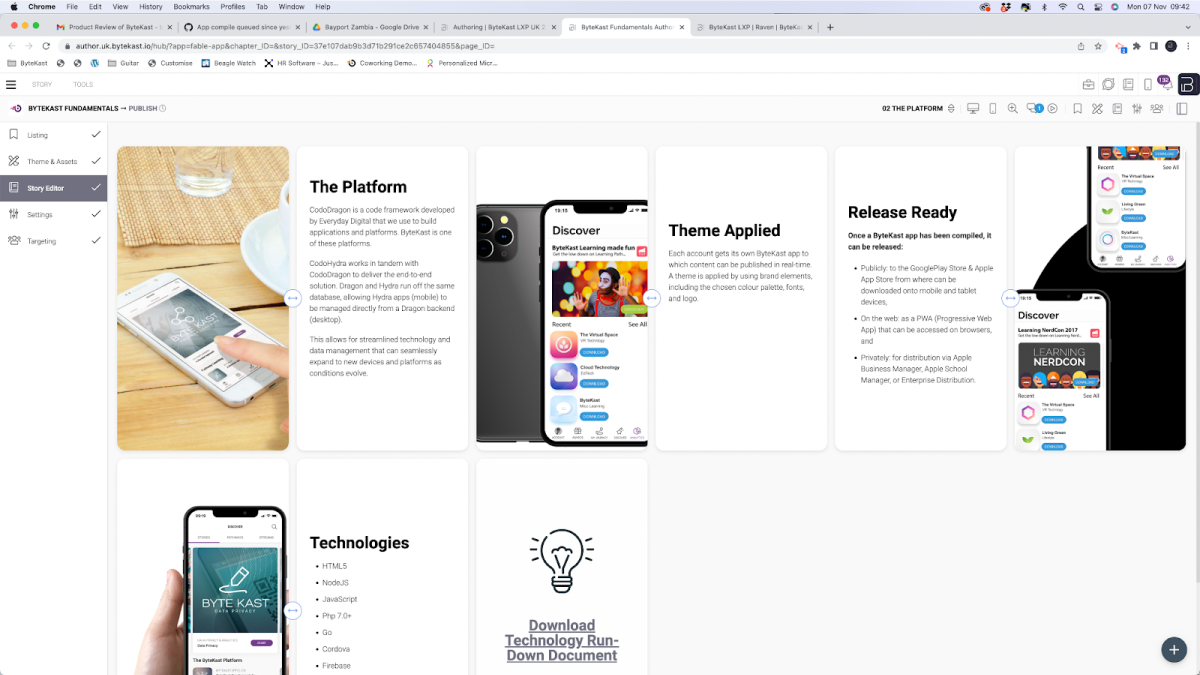 But there are hundreds (if not thousands) of LMS systems, so what makes ByteKast different? Well, ByteKast provides easy-to-implement solutions with end-users in mind while promoting a self-directed learning culture. So here are the key USPs that make ByteKast unique and better than others!
Self-directed learning in your pocket (via their mobile app)
Multiple learning pathways that incorporate learning events, classrooms, webinars, and physical activities
Remote learning capabilities that allow users to download and complete training offline
Instant publishing from a single, end-to-end platform
ByteKast also has a notifications engine that allows you to communicate with employees using bot technology. For instance, you can send a nudge (reminder) to inactive users via push notifications to complete their training. 
Sounds interesting, right? Well, we're yet to discuss its features. 
Spoiler Alert: It has built-in tools for easy content management, SME involvement, and sign-off efficiency. 
Content Creation

Built originally by experts from learning and training backgrounds, ByteKast follows a very well-thought approach to deliver a more natural way of eLearning.
You can begin by choosing from pre-built templates. Then, use its cool features to make your content more fun and engaging. Journey maps, for instance, allow for interactive map learning. You can also create a memory game to drive visual learning and recognition with a simple drag and drop.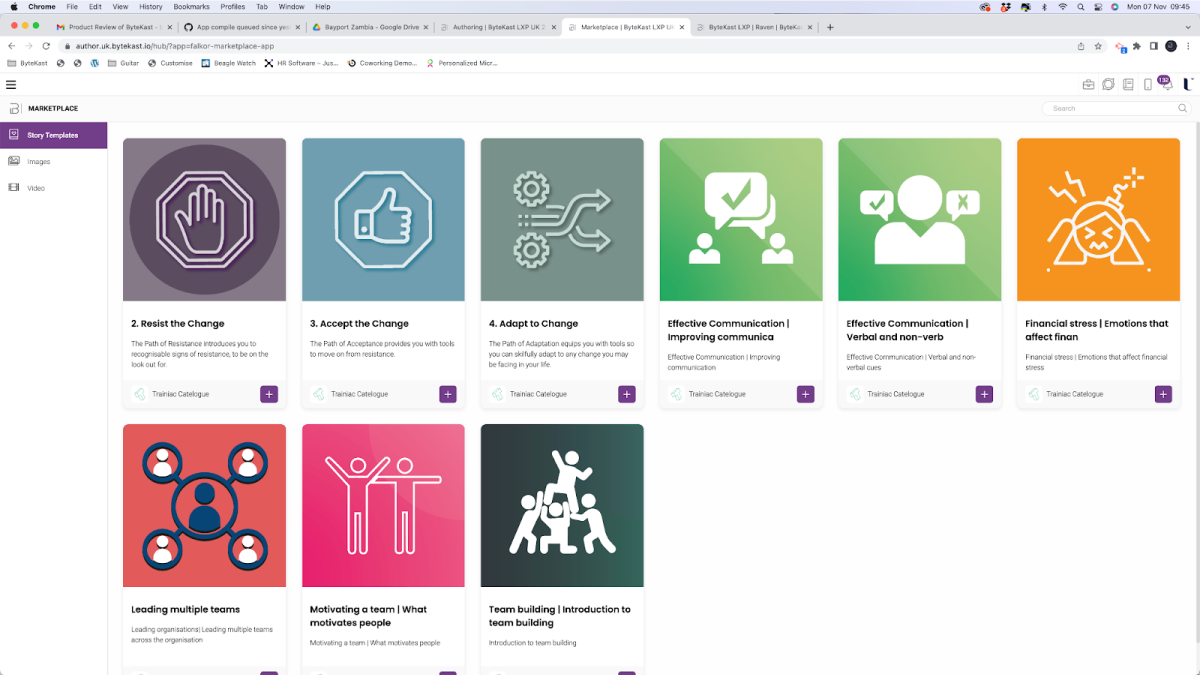 Additionally, you can add images, audio, and videos with text, slideshow, and PDF to the learning stories. These resources can be downloaded and accessed offline.
You can adjust the outcome of the stories. For example, you can define how much time a user needs to spend to complete the story. You can also set the learning journey (linear or open world) and the percentage required to pass.
Wait, there's more. The survey option allows you to collect user feedback and ratings to improve the stories. Then, they can use the text response feature to answer open-ended questions in detail.
Content Curation
Designed with the end-users in mind, ByteKast has done an excellent job in its Streams (a curation channel). It enables you to enhance the learning experience by offering segmented content types that users can read, watch, or listen to learn.
Since Streams integrates with YouTube and Spotify, users can stream learning content shared with them from private and public channels. They can also access podcasts from Spotify or iTunes.
And if you're a fan of Netflix's weekly episode releases, you can also consider delivering content in episodes automatically. This enables you to provide a continuous stream of fresh content (on YouTube and podcasts) to keep users engaged.
Workflow & Collaboration
Use ByteKast's Workflow feature to collaborate with your team and get feedback to improve the stories. Stakeholders can comment and collaborate on the same document, eliminating the need for sending emails back and forth. In addition, you can share screenshots and screencasts to provide more clarity on your stories
You can even assign tasks (modification requests, if any) for your team to complete. Give those change proposals a start and stop date. Your team members can use annotations on templates to highlight the changes they've made. This helps manage feedback and changes from one place.
Learning Pathways
ByteKast makes it easy to create a learning journey by placing activities in a sequence of rows within each pathway level. You can track the actions a user has completed in each pathway. It also lets you track off-app activities like seminars or physical training classes.
Here are some examples of learning pathway options available in ByteKast. 
Audio and Video: Upload a .mp3 or a .mp4 file as a pathway activity
Classroom: Host virtual or physical events. Users can mark their attendance via QR codes, geolocation, or photographic evidence. 
Milestone: Create up to four milestones per pathway (one per level) and track where users are.
Stream snippet: Add a collection of audio and video for users to stream.
Rewards: Honor users at certain points in the pathway to encourage learning.
Assessment: Create a test for users to complete before moving to the next level.
Group Learning Management
Have a big team you want to train? Well, ByteKast got you covered! You can create groups and manage users in just a few clicks. You can also control access to content stories and apps for each group you create.
ByteKast allows you to send notifications to groups via push notifications and email, so they stay abreast of new stories or changes that you make. Inactive users in the group will be sent a nudging reminder after 1.5 days, which brings us to the next feature.
User Nudging
Nudging is a great way to notify users of pending stories or pathways so they can complete their tasks on time. It also helps ensure no user misses your stories. Currently, user nudging in ByteKast is divided into four categories.
Story Notifications: As soon as you publish a story, users are notified via push and email notifications. 
Group Nudging: Inactive users in a group are sent a reminder after you send an invite. 
Pathway Nudging: Set time limits to each row of activities, and the users will be reminded accordingly by push and email notifications. 
Custom Notifications: Send custom notifications to a single or all the groups in your account.
Analytics & Trends


Since you're spending a lot of time, money, and effort training employees, you'd want to know how users interact with your content. Don't worry. ByteKast lets you do that as well!
Track how many users have viewed your stories and follow their progress in real-time. Filter by story, groups, and demographics to gain in-depth insights. You can even drill down to the story level and analyse responses, questions, assignments, and user logs. This is also where you can read user reviews and feedback to improve.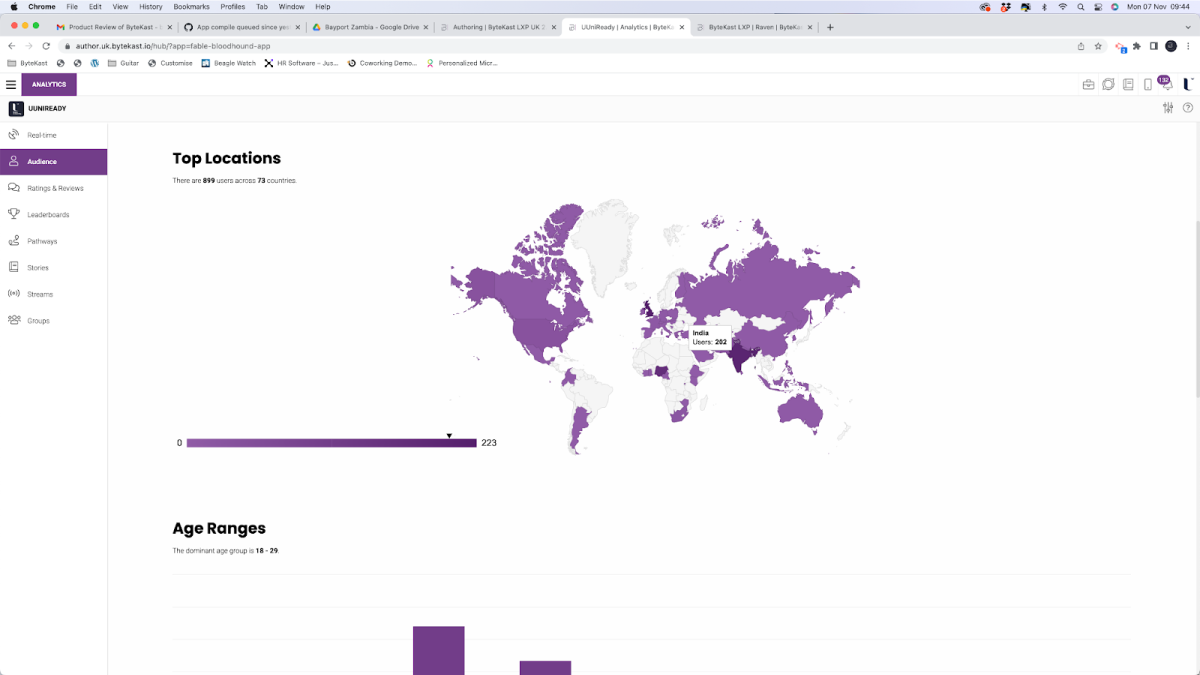 Furthermore, you can view your users' device types and app versions to better accommodate their needs. Lastly, use the leaderboard to identify top learners based on their groups, cities, and countries.
Certificates & Rewards
Want to make learning more rewarding? Offer certificates and rewards on completion of stories. Decide what and how many rewards are available for each user (or group). They can redeem their rewards and certificates by scanning a QR code (available at a certain point in the pathway you decide).
Final Verdict
ByteKast is an easy-to-use yet powerful learning experience platform that allows you to create compelling learning content in just a few clicks. Furthermore, you can make the stories engaging and interesting with pre-built templates and gamification features (scores, rewards, and leaderboard options). Users can use a device of their choice or even switch between devices to complete the content. 
You can reward users at various levels in pathways, offer certificates, and track how they interact with your content! Also, since the team behind ByteKast is always looking for improvements, you can expect new features that will make the platform even better. 
However, it is crucial to analyse if its features and value proposition align with your business goals. This will help you choose the right solution for your company while saving time and money.